Combine is the only way to strengthen talismans and defensive gear by giving them Plus Rank. It can make them stronger than the same ones without Combination or with lower Plus Rank and can add additional attributes to the equipment. Of course, the higher Plus Rank, the more power they have.
What is required?
Combination requires some necessary materials:
Emerald is used to combine with weapon talismans and mounts, while Ruby is used with defensive gear.
The higher-rank Combination, the lower success rate, but rate can be raised by providing Fortune Item. At present, the Fortune Items can be used on all equipment of +7 or above, Titanium Stone (may be acquired by killing strong BOSS) and Golden Diamond (an item to guarantee 100% success rate in Combination from +1 to +9) that is available from the in game shop. Please note that all Fortune Items will disappear after usage and each Combination no matter successful or failed consumes certain amount of money, Combine Gem and all Fortune Items. So please be careful when you put things as Fortune Item. Success rate will be raised after failure, but it can raise 20% at most.
How to Combine
Speak to the blacksmith and select the Combine option in his dialogue.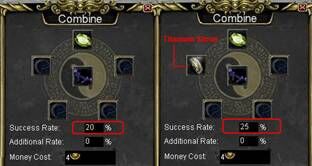 Rates of success
All talisman and defensive gear can be combined to +1 without any failure and money. From +2 to +10, the success rate will reduce gradually.
Plus Rank
Combine Gem
(Talisman
Mount)
Combine Gem
(Defense Gear)
Gold*
(Talisman)
Gold*
(Defense Gear)
Success Rate
Success Rate
raised after
every failure (%)
Success Rate
raised when using
a Fortune Item (%)
1
Small Emerald
Small Ruby
0
0
100
0
0
2
Small Emerald
Small Ruby
2
1
50
5
0
3
Small Emerald
Small Ruby
2
1
50
5
0
4
Medium Emerald
Medium Ruby
4
2
20
5
0
5
Medium Emerald
Medium Ruby
4
2
20
5
0
6
Medium Emerald
Medium Ruby
4
2
20
5
0
7
Large Emerald
Large Ruby
8
4
10
1
2
8
Large Emerald
Large Ruby
8
4
8
1
4
9
Large Emerald
Large Ruby
8
4
6
1
10
10
Large Emerald
Large Ruby
30
20
1
1
25
* The data here refers to equipment level 30 to 60, and the Gold required for equipment below level 30 and above level 60 is respectively half and double of the data above.