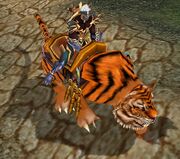 Mounts are animals to ride. Depending on the mount, they increase your movement speed 20% or 30% at lvl 0.
Most mounts can be upgraded by successfully combining with an Emerald, increasing the movement speed by 10% each time. The exceptions to this are the Lavender White Tigers and Dolphin.
Mounts upgraded between +0 to +6 can be used anywhere except scenarios. Mounts upgraded to +7 and greater can be used anywhere.
---