Reputation is attached to each region of the game.
Players can check their current Reputation details from the Character interface (C). Select the "Reputation" tab for further information as the picture below shows. It displays the reputation states in each area including the amount of Reputation Points accumulated so far, the amount left for a higher level and current Reputation Level.
Reputation quests
Players can earn reputation points by doing quests given by specific NPCs. In most areas this will be the Reputation Merchant. Reputation quest can be done repeatedly with rewards of Experience, Energy and Reputation Point The first 3 completions of Reputation quests can be rewarded double or triple rewards according to different areas.
Master points
Characters that have reached level 30 are qualified to recruit apprentices. Being a master gives many benefits, one of which is to get Master Points that are gained as apprentices report level increases. 1 Report from Apprentice creates 1 Master Point. Master points can be exchanged for reputation points at a rate of 1 master point = 100 reputation points, with the exception of Loo's Grave Keeper in the Market of Clear Water Dam who exchanges master points at the rate of 1 master point = 10 reputation points.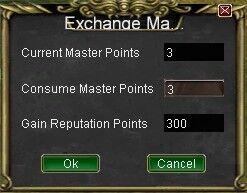 Reputation rewards
The Reputation Merchant has superior items available that are difficult to acquire in normal gameplay. In most instances these items will be blue. Earning reputation points allows a player to purchase these items from him. There are a few other NPCs who also offer reputation rewards, including Rube Rich Man and Loo's Graves Keeper.